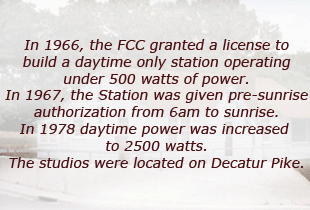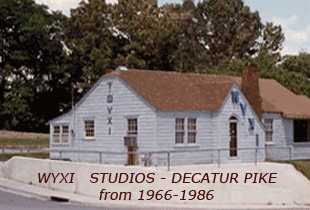 WYXI Radio (AM-1390) signed on the air at 6:45 a.m. on Wednesday, October 5, 1966. The first record to be played on the air was Lee Dorsey's "Working in the Coal Mine."

The studios were located in a house at 14 Decatur Pike atop Depot Hill. The studios remained at that location until 1986. The house was later sold and was burned by the Athens Fire Department as a training exercise.

The original owners were John and Julia Frew and their daughter, Julie. The corporation was known as "3 J's Broadcasting." John had been an announcer at WQXI ("Quixie") in Atlanta. He picked the call letters WYXI because "Wixie" rhymed with "Quixie." The Frews later owned a station in Cartersville, Georgia, with the call letters WYXC. (Also pronounced "Wixie."

When WYXI signed on its power was 500 watts. The transmitter was a Gates BC-1E. The transmitter and tower site was (and still is) on Slack Road at the northeastern edge of the city of Athens, sitting on a 5-acre field. The tower is 170' tall, with the base insulator and concrete base adding another 2'.

In 1967, the station was given pre-sunrise authorization to operate from 6 a.m. to sunrise with 500 watts.

In 1978, the station was given authority to increase daytime power to 2500 watts. At that time, a McMartin BA 2.5K transmitter was installed and the Gates transmitter was removed from the premises.

On November 15, 1979, the station was sold to REP Broadcasting, whose president was W.L. Gerdes. Gerdes operated the station until 1984, when REP Broadcasting returned the license to 3 J's Broadcasting.

The Frews continued to operate the station until September 12, 1986, when it was sold to Cornerstone Broadcasting, Inc. The president is Mark Lefler. The vice-president is Bob Ketchersid. At that time, the studio was moved to new facilities in the historic Robert E. Lee Hotel at 112 E. Madison Avenue in downtown Athens.

The format was immediately switched from country music to a combination of middle of the road coupled with talk and news along with several Christian programs.

On Dec. 1, 1987, the station was granted authorization to operate at night with 62 watts. At that time, a 60-watt LPB transmitter was installed to serve as the night-time transmitter.

In July 2000, a new solid-state Energy-Onix transmitter was installed. The McMartin transmitter was kept as a backup.

MEET THE WYXI OWNERS

Bob Ketchersid is vice-president, program director, music director, and news director. His career in broadcasting began in the summer of 1960 when he got a job at WAEW in Crossville, Tennessee. When he returned to Tennessee Wesleyan College that fall, he got a job at WLAR in Athens. He worked there for three years. Upon graduation from TWC with a degree in Mathematics, Bob went on to the University of Tennessee in Knoxville to get a degree in Broadcast Journalism. While attending UT, he worked at the campus station, WUOT-FM, and at WRKH in Rockwood, TN.

After graduation from UT, Bob was awarded a graduate assistantship by CBS Radio to attend Ohio State University. The program included a six month internship at WCBS Radio in New York in 1965, where Bob worked in the news department.

He graduated from Ohio State University in December of 1965 and went to work at WSB Radio in Atlanta in 1966. At WSB, Bob was a news reporter and later became assistant news director and spent seven years as news director.

In 1980, Bob left WSB and he and his family joined the Christian missionary radio organization, Trans World Radio, and served six years at TWR's facilities on the island of Bonaire in the southern Caribbean Sea.

He and his family returned to the states in 1986 and that's when the Ketchersid and Lefler families purchased WYXI Radio.